La Fresnaie
La Fresnaie
Modern detached house
Sleeps 6 plus baby
Excellent wheelchair access
4 bedrooms & 2 bathrooms
Electric central heating
UK satellite TV & DVD player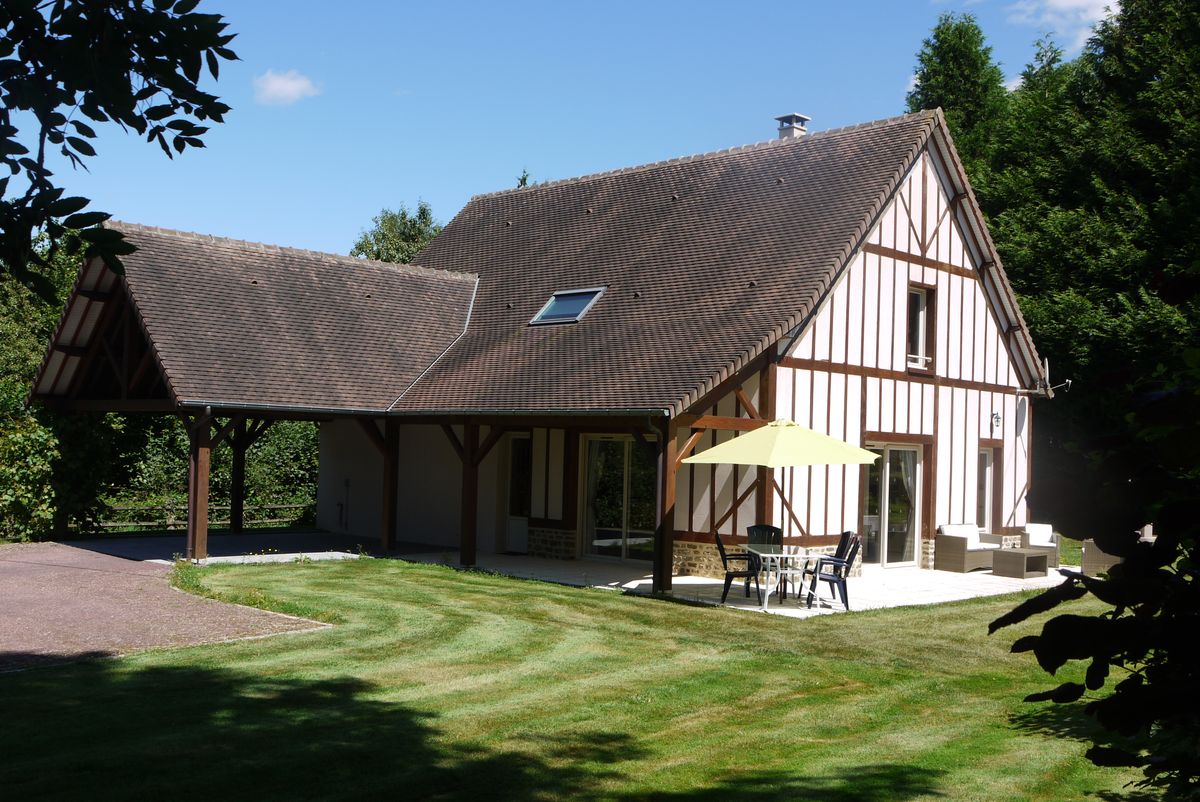 La Fresnaie is a modern detached house on a ¼ acre plot, adjacent to our two other holiday cottages and to our home. Surrounded by mature hedgerows, the house has been designed and built to ensure the highest level of accessibility for disabled guests. Furnished to a high standard, the ground floor of La Fresnaie is all on one level, with tiled floors throughout. The front and kitchen doorways are wide enough for wheelchair access – and there is sufficient room for manoeuvring with ease inside the house.
The large, open-sided garage has room for two cars, with covered access to the front door and the ground floor of the house straight from the garage, which ensures protection from the weather all year round. On the same level as the house and garage are a west-facing, covered terrace and a south-facing open terrace. Equipped with garden furniture and a barbecue, both terraces are accessible from the house via the front and kitchen doors.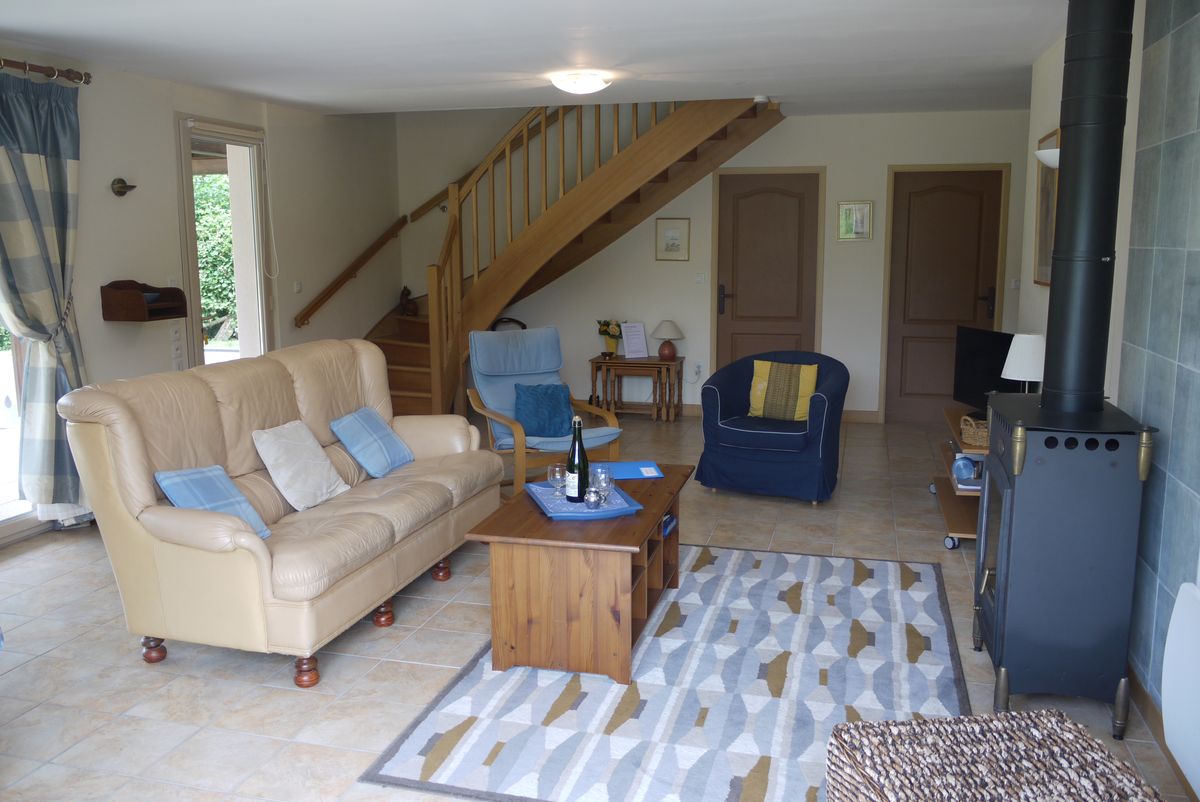 From the covered terrace, the front door of La Fresnaie opens into a large living room with a dining area. A Godin wood-burning stove provides cosy warmth for this room during the cooler months of the year. In addition, the whole house has electric central heating, using either radiant panels or convectors, all with electronic thermostats.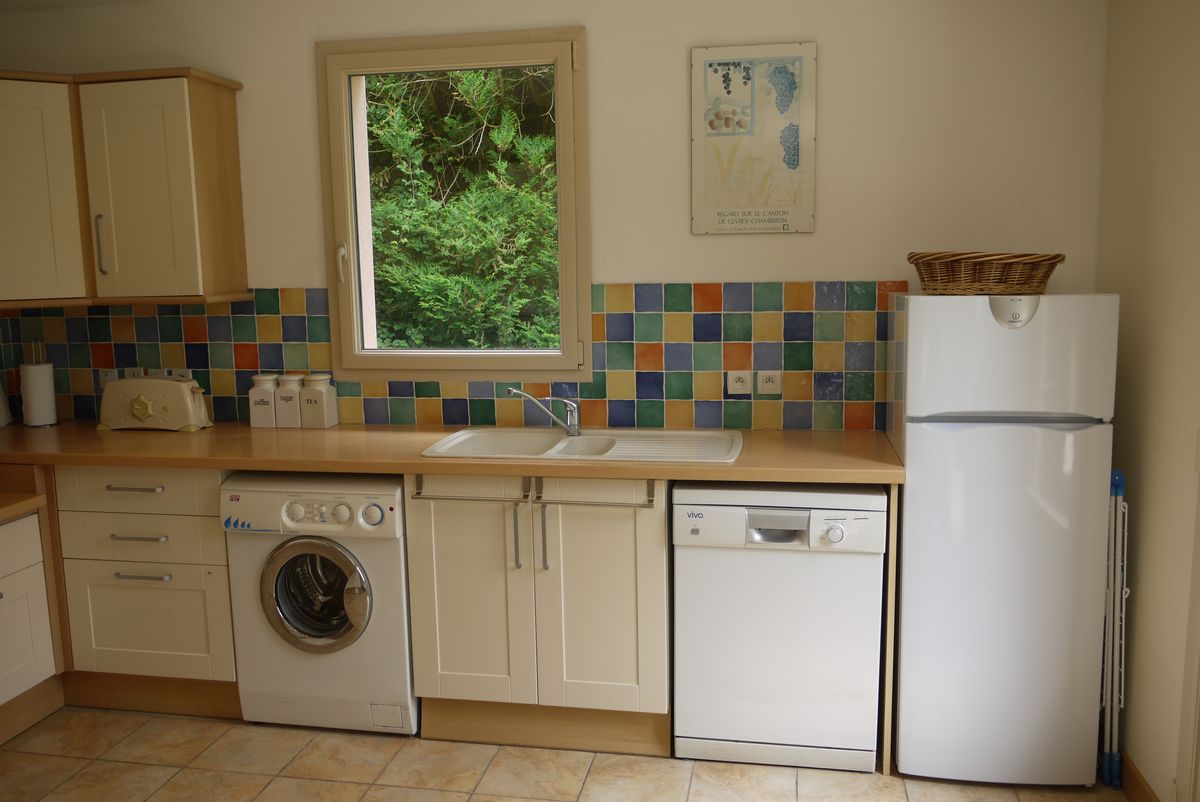 The fitted kitchen is equipped with a washing machine, a dishwasher, a fridge-freezer, a microwave oven and the usual small kitchen appliances. The kitchen has been designed with wheelchair access in mind and includes a mid-level oven, a low-level ceramic hob and low-level preparation surfaces.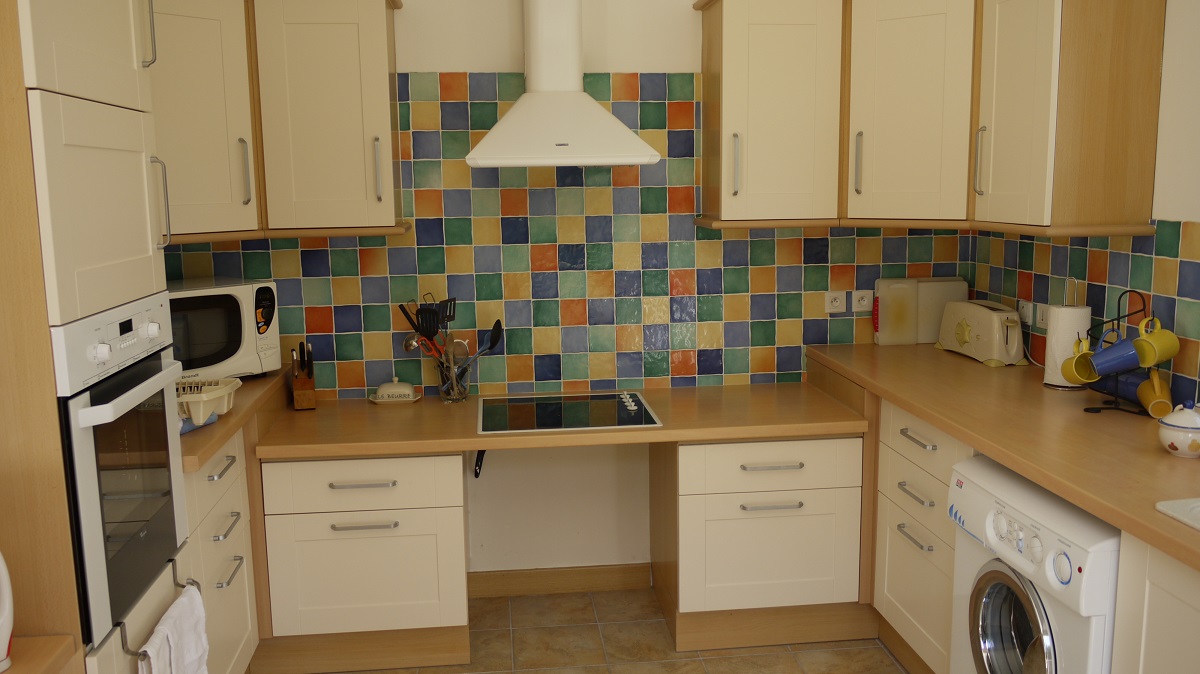 La Fresnaie has two bedrooms and a bathroom on the ground floor – and two further bedrooms and a second bathroom on the first floor.
Bedroom 1 on the ground floor is furnished with twin beds. Either can be raised to provide more height to facilitate the use of a hoist, which incidentally we can hire locally if required. A bed rail is also available, if required. There is also plenty of room for wheelchair manoeuvring.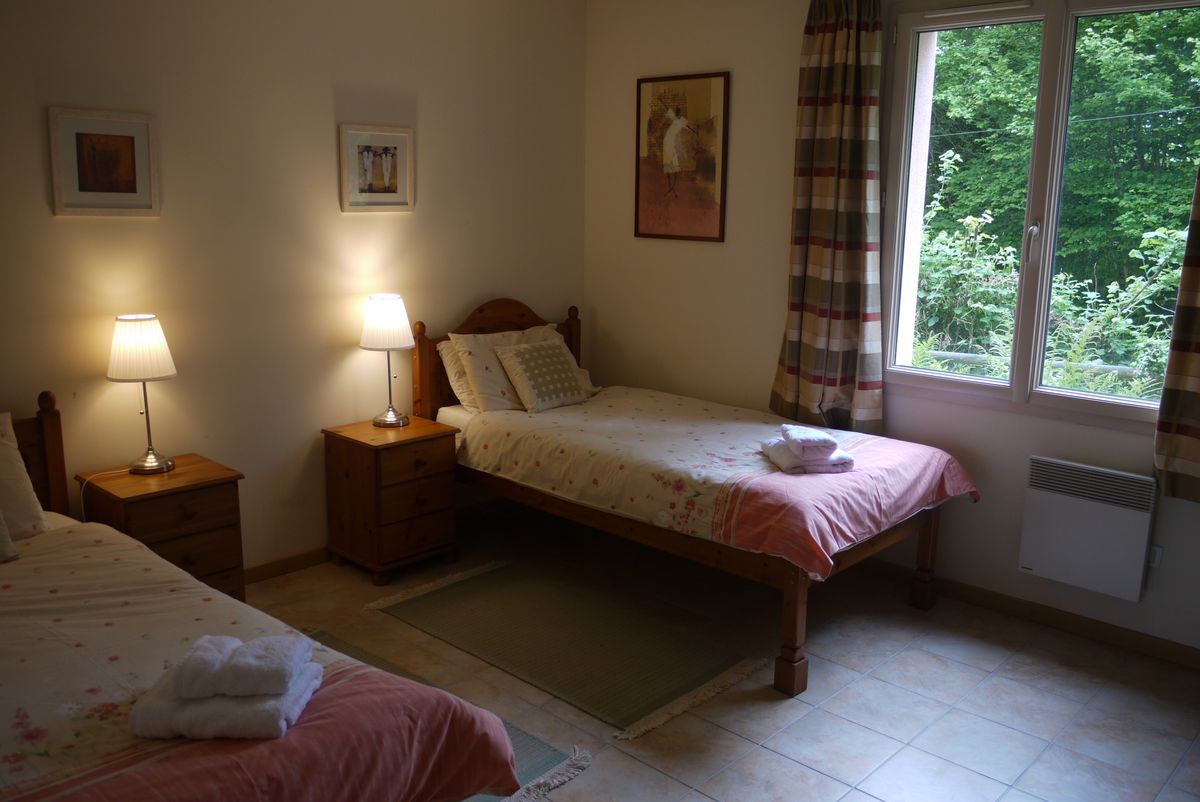 Bedroom 2 (also on the ground floor) has a super-king-size bed, which may be divided to create two large single beds, if preferred. In both configurations, there is plenty of space for manoeuvring a wheelchair and for the use of a hoist (from either the left or the right side of the beds).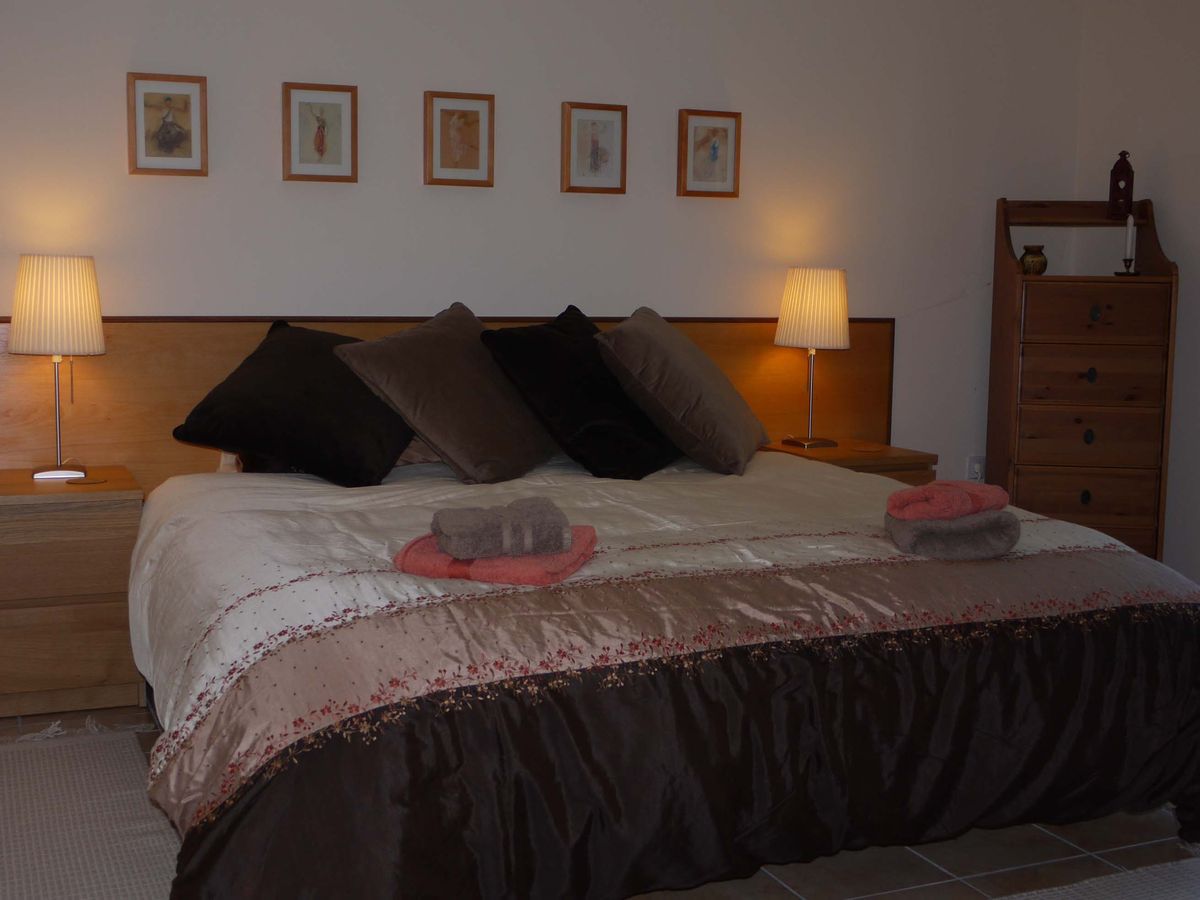 The adjacent wet-room-style bathroom has a large, open shower area, with a non-slip tiled floor, a drop-down seat and grab rails. The shower area (2.5m²) is large enough for wheelchair access, if necessary. The rest of the bathroom has a non-slip tiled floor – and the WC and hand basin are also ideal for disabled users. A heated towel rail and a powerful convector heater provide comfort and warmth for this spacious room when it is needed.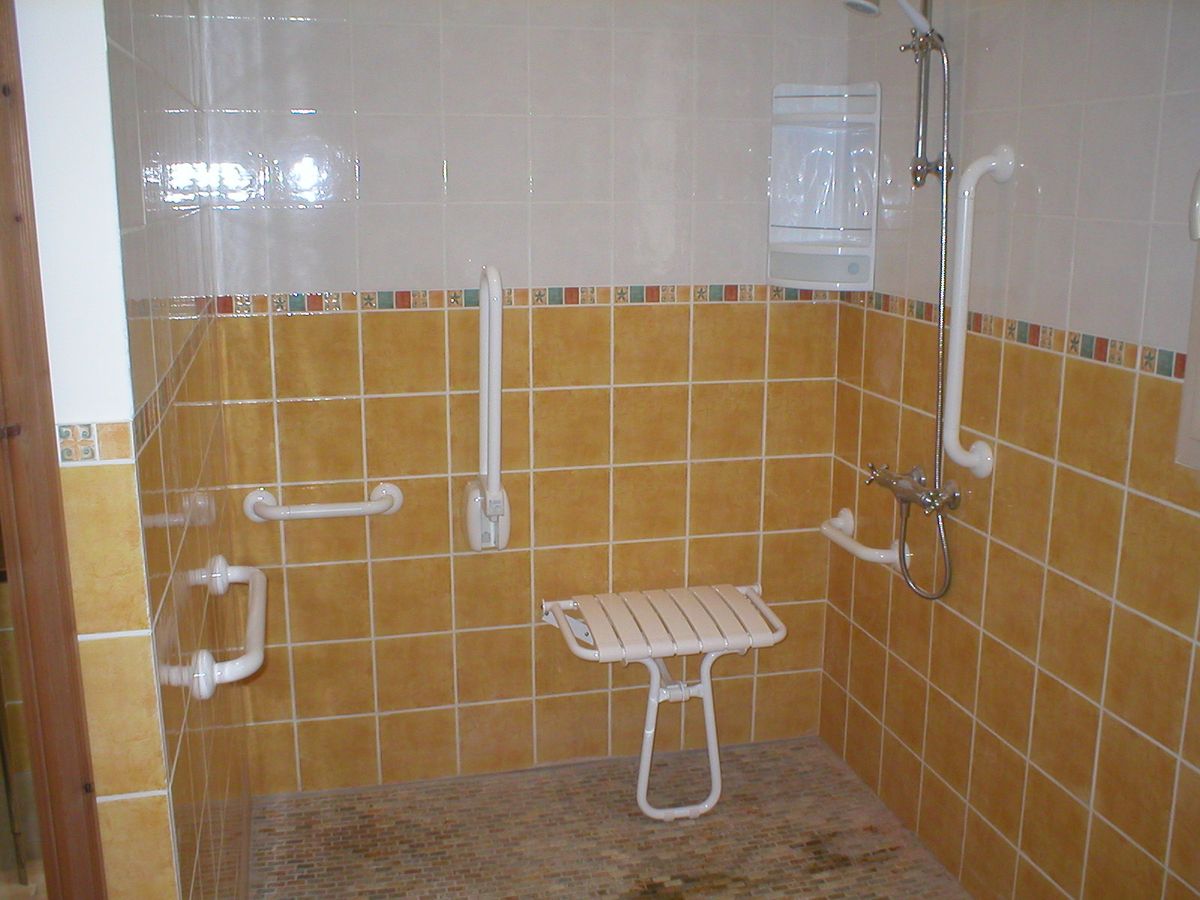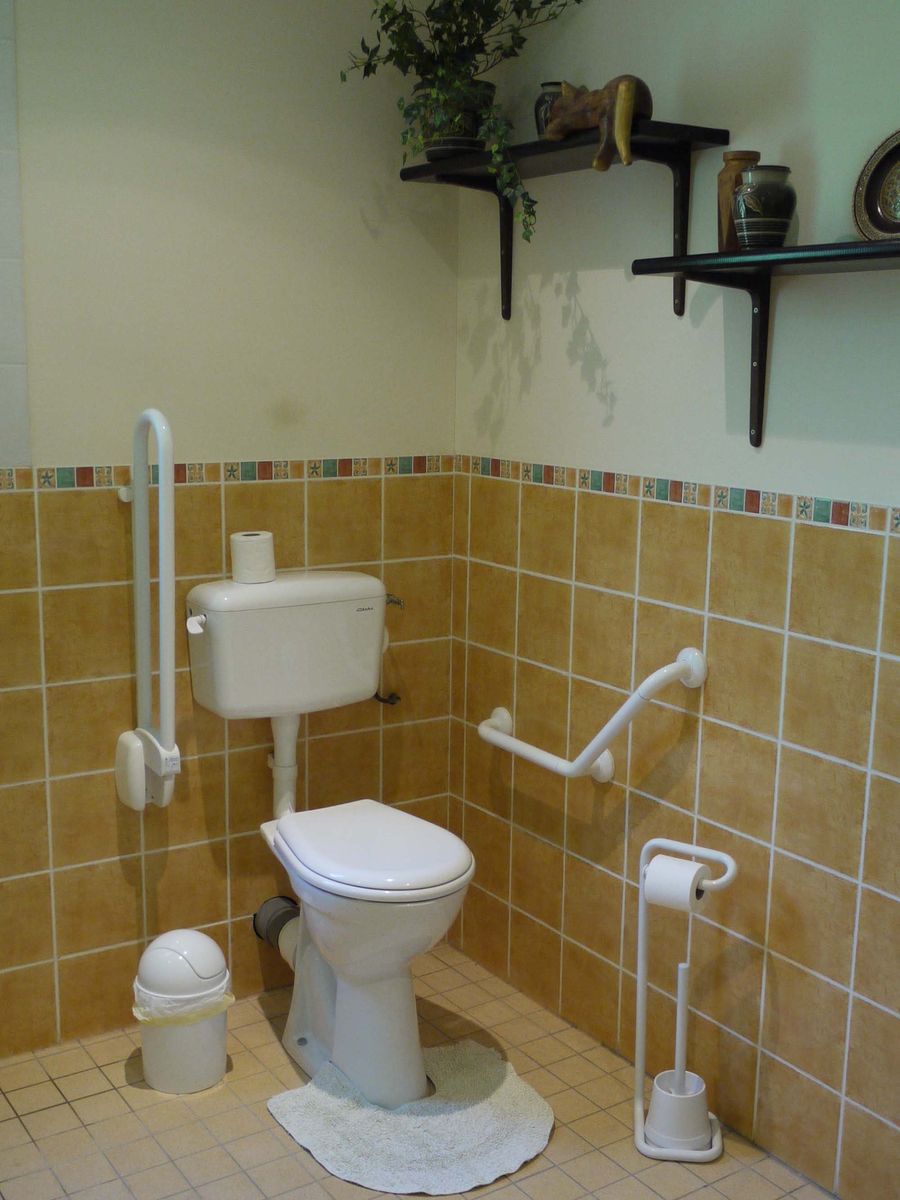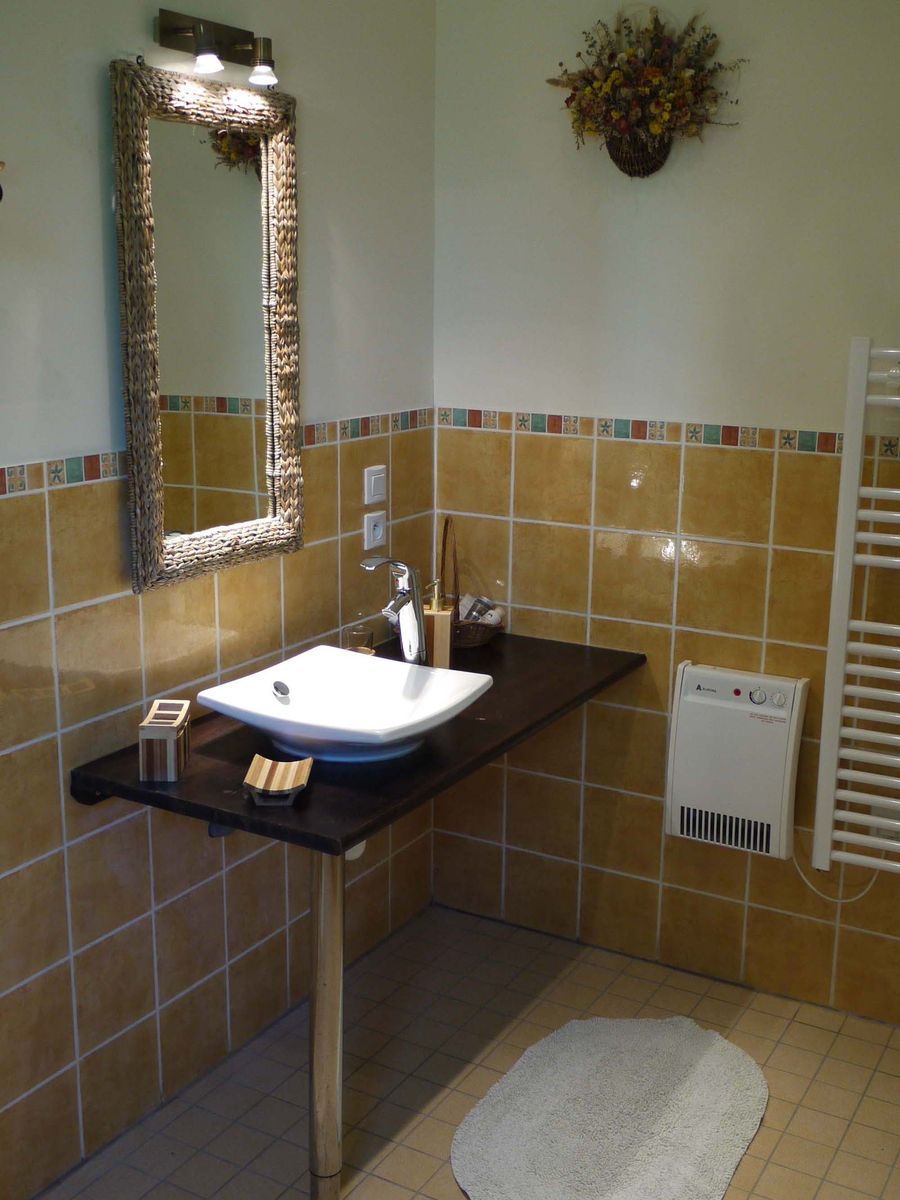 An ash-wood staircase, made by a local carpenter, leads up to a spacious landing, Bedrooms 3 & 4, a family bathroom and a separate WC. The leading edges of the wooden stair treads on the staircase are made of white ash to make them more visible, which should be of particular benefit to guests with any visual impairment.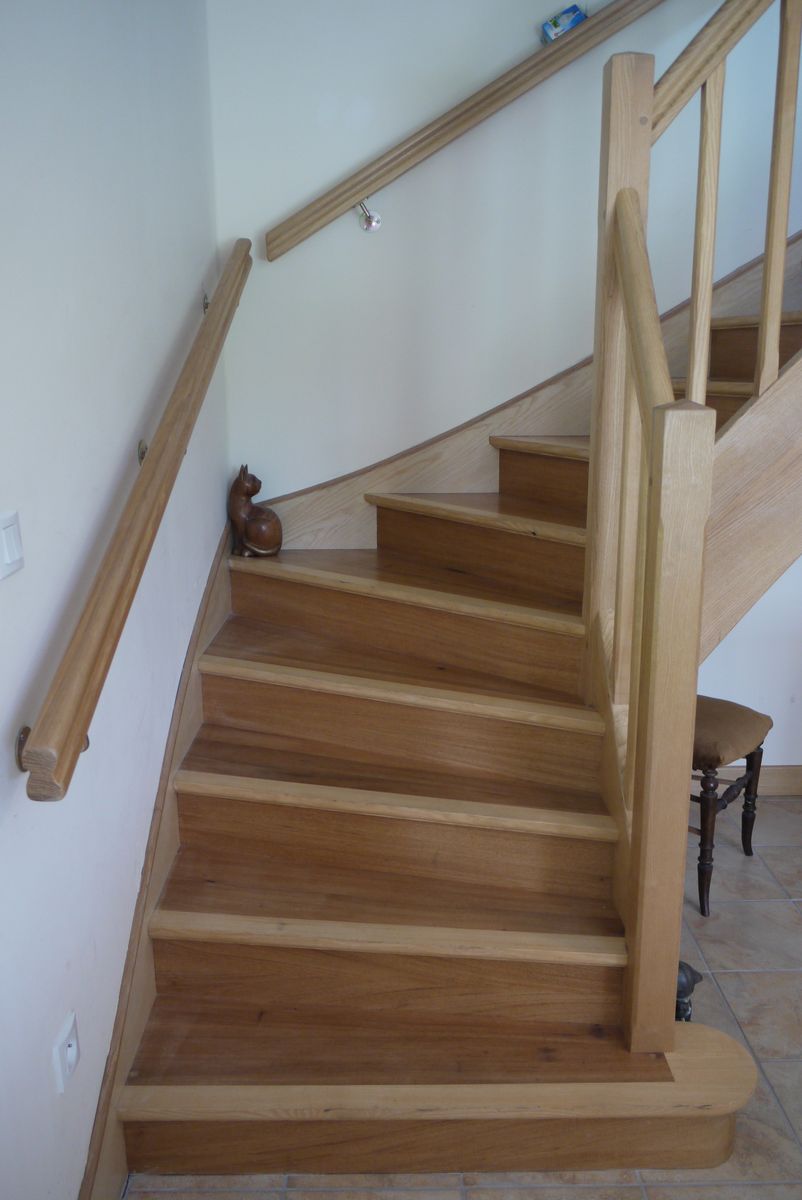 Upstairs, bedroom 3 is furnished with a double bed and bedroom 4 has twin beds. Both rooms are large and can accommodate a cot.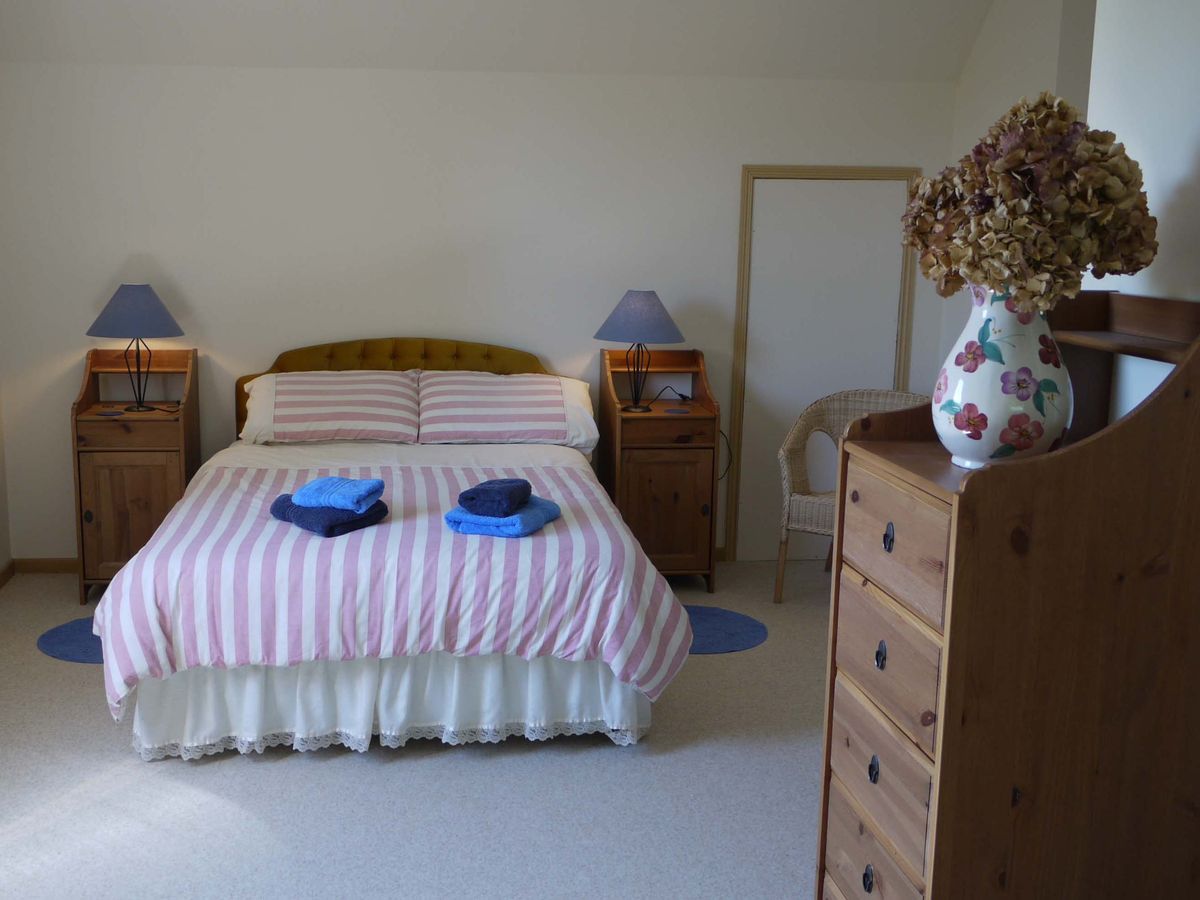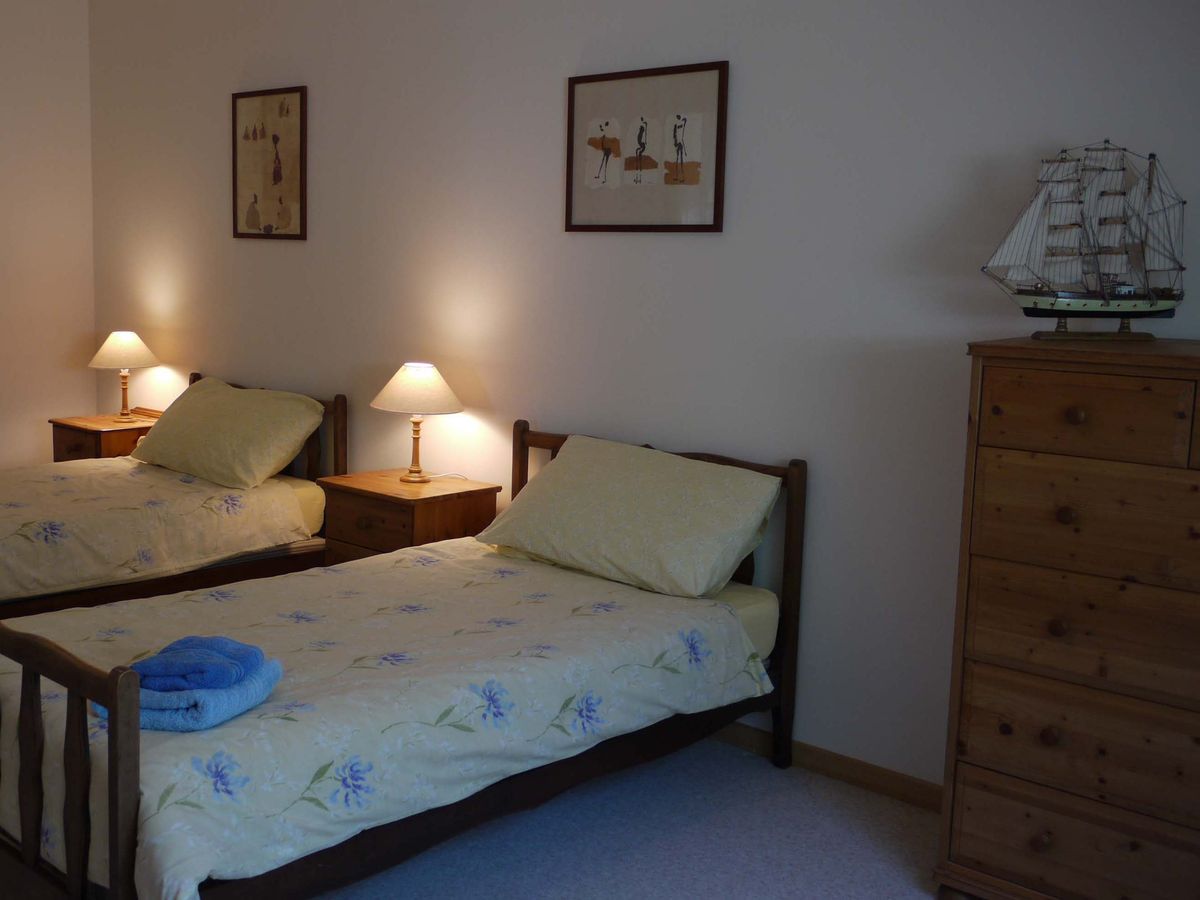 Please note that La Fresnaie accommodates up to six people + a baby and you may book three of the four bedrooms. Please arrange this with us when making your booking. NB: all bed linen (except cot linen) and towels are provided and included in our prices.
According to the composition of your party, you may choose:


2 double beds & 2 single beds
1 double bed & 4 single beds
Accessibility for disabled guests
Iit took two years to build La Fresnaie and to furnish and equip it for self-catering holidays. From the very beginning, we have made it a priority to maximise ease of accessibility, both inside and outside the house. Listed below are just some of the features we have included to suit our disabled and less mobile clients:
The garage is wide enough and long enough to exit from a vehicle from either side, or from the rear.

The floor of the garage is coated with an anti-slip paint.

Access from the garage to the front door of the house is completely flat and under cover.

The terrace areas on two adjoining sides of the house are also on the same level as the ground floor (and the garage).

The ground-floor living area is all on one level and has a tiled floor (rugs can be removed if required).

The front door and internal doors on the ground floor have 83cm openings and all provide "straight-in" access.

The wet-room and ground-floor bedrooms are large enough to ensure wheelchair manoeuvrability. Turning circles are a minimum of 1.5m and beds can be approached from either side.

The ground floor bedroom windows are lower than normal.

The wet-room shower area is large enough (2.5m²) to accommodate a wheelchair and there is a drop-down seat. Hand rails are fitted around the walls. The floor has non-slip tiles, both in the shower area and in the room itself. The WC is 49cm high, with a drop-down rail to the open side and a hand rail on the wall side. The hand basin is 76cm from ground level and a wheelchair can be manoeuvred close to it. A wheeled shower chair is also available (for hire).

The kitchen has dual-level working surfaces. On one wall, the sink, washing machine and dishwasher have a 92cm worktop. The hob is positioned at a height of 76cm, with work surfaces on both sides. The oven is at a height of 72cm, with a 76cm work surface alongside, on which stands the electric kettle.

The staircase is wide (90cm) and has handrails on both sides, which also extend 33cm beyond the steps at the top and the bottom. In addition, the leading edges of the wooden stair treads are made of white ash wood to make them more visible.

All light switches are lower – and sockets are higher – for ease of use.

We encourage our disabled guests to discuss their needs with us before booking. Although we do not have specialist equipment, such as a hoist or a wheelchair, most pharmacies in our local area will rent out these items by the week at very reasonable rates and at fairly short notice. We have a wheeling/self-propelling shower chair available for hire. All four caster wheels have brakes, making it safe for use in the shower area and elsewhere. This chair can also be used to reverse over the WC or as a commode (it has its own removable bowl with a lid). Please ask us for details of hire rates. It may be possible to organise personal care for disabled guests. Should this be required, please tell us well in advance of your holiday – preferably at the time of booking – since this can only be provided by prior arrangement and negotiation. Please contact us for more details.

Finally, although we do not accept pet dogs at Le Haut Fresnay, in either La Fermette or Le Fournil, we do accept guide dogs and assistant dogs in La Fresnaie. There is an extra charge for such dogs. Please consult us for further details.
If you would like to book La Fresnaie for your holiday, please first check the availability - on the AVAILABILITY page - and then follow our simple booking procedure as described on the BOOKING INFORMATION page.